---

PlayTo100
the little mental arithmetic game
Version 3.1 / 28.02.2013


---
For Android™

---

Certified


Content
General Information


What is PlayTo100 ?

PlayTo100 is a simple mental arithmetic game for kids between 8 and 80 years old
which is probably known by everybody from schooldays.
It's played by 2 players (user against smartphone), each of them tries to reach 
the sum of 100 before the other does.
The game starts at the sum of 0 and each player adds alternately a number between
1 and 10 to the same sum. The first player who reaches the sum of 100 has won.



Operating Systems
PlayTo100 is developed for Android™ 2.2 or higher, API level 8 or higher.



Screenshots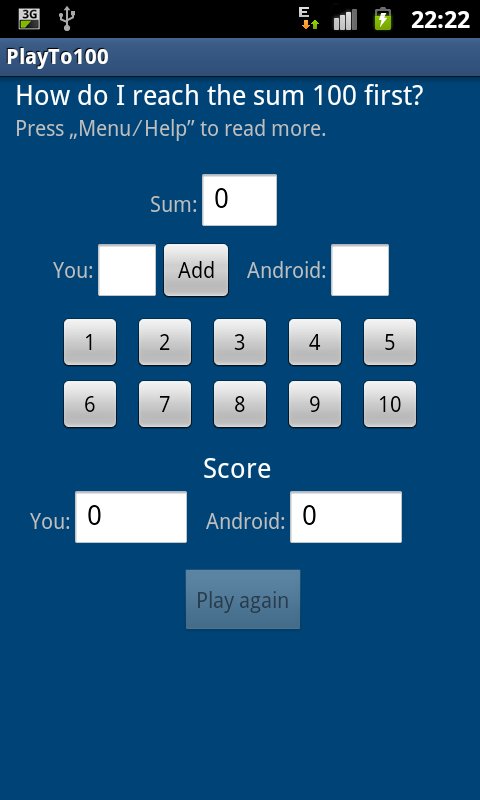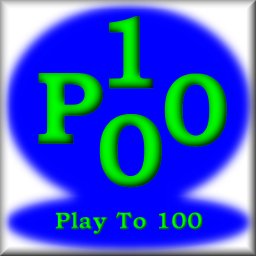 Install
Go to Google Play™ to install PlayTo100.


Disclaimer


The author of PlayTo100 does not assume any liability for damages that may be 
caused by improper or irresponsible use of the program and make NO WARRANTY or 
representation, either express or implied, with respect to this software.  
This software is provided "AS-IS", and the user, assume the entire risk of using it.




Last document update: 21.10.2018







 Home